Import and Export of perishables
We are specialised in customs and logistic operations for perishables
85% of the goods released with our help at PARTIDA consist of fruit and vegetables through import, export and transit operations. From our office in Algeciras, we take care of the customs proceedings and logistic support required for customs clearances in any port or border inspection point (PIF) in Spain.
This is possible thanks to the Centralised Customs Clearance scheme, as one of the results of having become Authorised Economic Operator certified (AEO).
The high volumes and the perishable nature of these fruit and vegetable products demand a prompt customs management, which we meet at Partida through the coordination and internal communication between our colleagues at the office and at the border inspection point (PIF).
These fruit and vegetable products are transported in lorries and containers from and to: Morocco, Senegal, Ivory Coast, South Africa, Brazil, Colombia, Costa Rica, Chile, Mexico, Ecuador, Dominican Republic, Argentina, China, Singapore, Hong Kong, Saudi Arabia, United Arab Emirates, Malaysia, etc.
Partida Logistics is in charge of collecting documents, processing customs clearances, and coordinating inspections and logistic support, either by lorries or containers, in any Spanish port.
Partida Logistics ensures full coverage of the logistic chain
1. Communication with shipping companies
2. Advice on current regulations (relevant documents, phytosanitary checks, containers, labels, pallets, VAT and tariffs)
3. Collection and delivery (Terminal <-> PIF <-> Warehouse)
5. Technical inspection services (Health, Foreign, Plant Health and Soivre)
6. Temperature-controlled storage
7. Transhipment of goods (Container <-> Lorry)
8. Land transport to destination
9. Quality checks at destination
The port of Algeciras, the most important in the country, has a cold storage capacity of over 30,000 pallets.
In fact, it already has a cold storage capacity of 30,300 pallets, while the terminals have 5,000 connections for refrigerated containers.
Moreover, included in our storage services, we also offer complementary services such as:
Re-palletising of goods
Re-labelling of goods
Re-packaging of goods
Transfer and relocation of goods
We provide you with cold storage and quality checks
It is very important to have a space where to store your goods, specially if they are perishables, in which case it is essential to maintain the cold chain. Our goal is to coordinate and take care of the arrival of your goods to port for its prompt storage, and hence to avoid waiting times resulting in time and money loss.
Quality checks are also required between the stages of transfer and storage of your goods. Partida Logistics has the backing of surveyors, who are in charge of performing these quality checks by examining the goods as they reach the port and promptly sending a report to the client.
The Port of Algeciras is a strategic point for shipping companies thanks to its infrastructures, which encourage the access of ships calling at the port, among them the "Megaships", with a capacity to transport up to 20,600 TEUs.
Direct link to Morocco – Port of Algeciras/Port of Motril
The geographical proximity to Morocco makes Algeciras and Motril the main ports for entry of fruit and vegetable products such as: tomatoes, peppers, pulse, berries, citrus, avocados, melons, beans, etc…
The routes Tanger Med/Algeciras and Tanger Med/Motril are used daily by numerous shipping companies. Ships embark and disembark carrying lorries and trailers approximately hourly.
The main destinations of Moroccan exports are Spain, France, United Kingdom and Germany. This is why we daily manage customs clearances through import and transit (T1).
Lastest news in Fruit Logistics
The African country complies with the European regulations required by Spain. South African authorities have informed the Ministry of Fisheries and Food that they have decided to lift the veto […]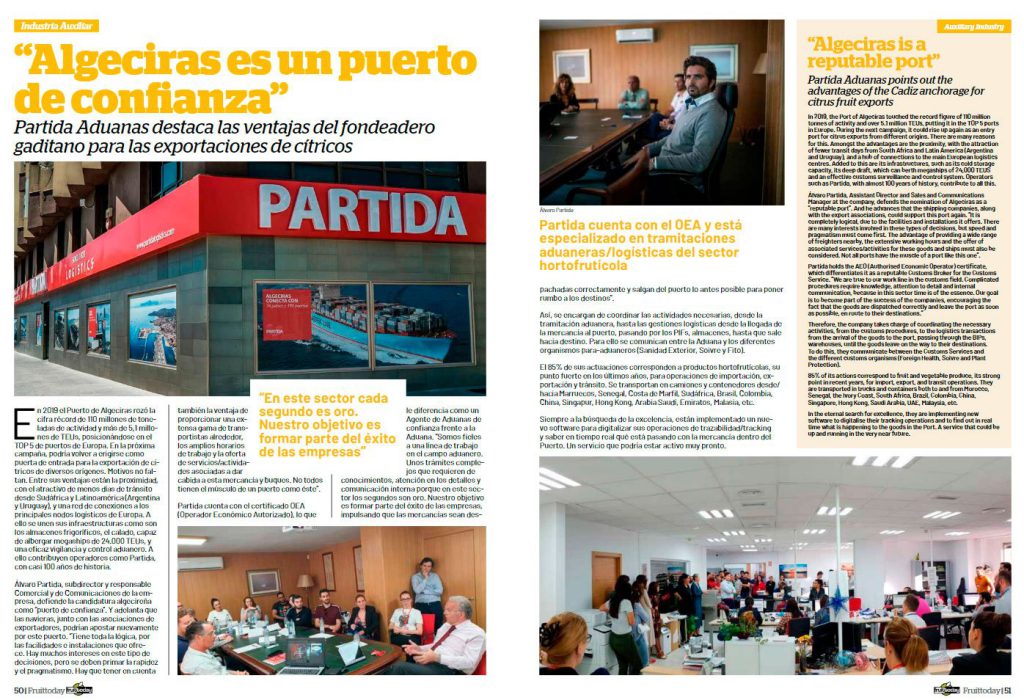 Partida Aduanas points out the advantages of the Cadiz anchorage for citrus fruit exports. In 2019, the Port of Algeciras touched the record figure of 110 million tonnes of activity […]
Do you need advice? Call us